CUSTOM HOCKEY JERSEYS
We are The Hockey Jersey Specialists™ and have been since 1991! Hockey jerseys is our business and when you purchase from CustomHockeyUniforms.com you'll be joining countless other satisfied teams and leagues from all over North America. We strive to provide high-quality jerseys with exceptional customer service, and the 95% five star rating from our customers is a testament to that commitment. Check out our product reviews and see why everyone loves our custom jerseys so much. 
Read Our Customer Reviews Now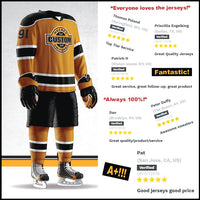 CUSTOM PRINTED TEAM JERSEYS
Your choice of jerseys customized with screen printed or sewn twill logos on
front and numbers on back, with the option to add names and sleeve numbers.
12 jersey minimum opening order. No minimum required for repeat orders*.
*Visit our How To Order page for more information.

The #1 choice of beer leagues worldwide! Your basic, solid color practice jersey to help keep the costs down so the boys still have some money left when it's their turn to provide the post-game refreshments. Good enough to make you look like a team, affordable enough that you won't care when your guys disappear and don't return the jersey to you. Midweight 100% polyester air-knit fabric with single-layer shoulders and elbows.
VIEW ALL H6000 STYLE JERSEYS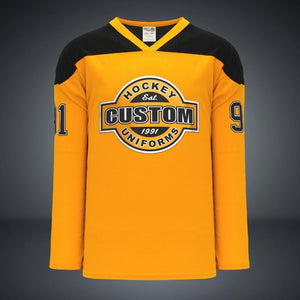 An H6000 but with a contrasting shoulder color for your more refined beer leaguers (we're talking Coors Light instead of Pabst Blue Ribbon here). This low-cost jersey is also a top choice for men's leagues and in-house youth hockey leagues alike, and just like the H6000, you won't break the bank if you need to order more of these in the future. Midweight 100% polyester air-knit fabric with single-layer shoulders and elbows.
VIEW ALL H6100 STYLE JERSEYS
The same midweight material as our practice jerseys, but the v-neck and contrasting sleeve and body striping plus a curved bottom hem provides a more custom look. Popular among youth and adult leagues, the H6400 series offers an attractive and affordable custom jersey option for both cost-conscious youth hockey parents and adult league players. Midweight 100% polyester air-knit fabric with single-layer shoulders and elbows.
VIEW ALL H6400 STYLE JERSEYS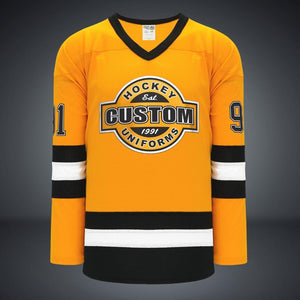 A fashion upgrade from the H6400 series. Same midweight fabric, curved bottom hem, and v-neck, but the addition of a third color via traditional, contrasting, Chicago Blackhawks style horizontal body and sleeve stripes really make these jerseys pop. The most popular customized uniforms we sell, the H6500 league series gives your custom jerseys a high-end look in a three-color design while delivering the performance and breathability of a lighter jersey at an even better price point. Midweight 100% polyester air-knit fabric with single-layer shoulders and elbows.
VIEW ALL H6500 STYLE JERSEYS
A step up in quality from the H6000+ practice and league series, the H7500 league jerseys are made with a heavier knit fabric for additional toughness, making this style a great choice for amateur teams and leagues looking for lasting durability without adding too much weight or cost. A classic three-color design including thick, sandwich style body and sleeve striping plus contrasting shoulder yoke with piping make this traditionally styled jersey the best-seller of our heavier league options. Heavyweight 100% polyester air-knit fabric with single-layer shoulders and elbows.
VIEW ALL H7500 STYLE JERSEYS
The same heavy knit fabric as the H7500 jerseys, the H7400 provides an added level of durability with its double-layer shoulders and elbows and an updated design pattern made in the style of the Minnesota Wild 2016 Stadium Series uniforms, including sewn-on bottom hem striping in a two-tone design. Remarkably affordable including custom team logos and numbers, this style is quickly becoming a go-to choice for teams seeking the best combination of quality and price. Heavyweight 100% polyester air-knit fabric with double-reinforced shoulders and elbows
VIEW ALL H7400 STYLE JERSEYS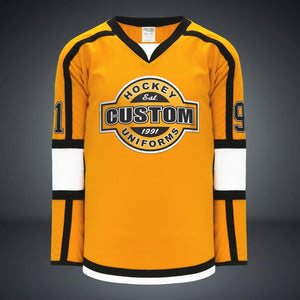 The best value you'll find anywhere, hands down! Same design specs as the Los Angeles Kings NHL style jerseys, the H7000 model has all the bells and whistles -- including sewn in striping, mesh underarm inserts, sewn weighted hem stripes, and fabric neck underlay -- but at a considerably lower price. More than adequate for full-check junior hockey or as extra-durable men's and youth league jerseys. Heavyweight 100% polyester air-knit fabric with double-reinforced shoulders and elbows.
VIEW ALL H7000 STYLE JERSEYS
H550 CUSTOM NHL & COLLEGE JERSEYS
For teams who want the very best (even if they aren't the very best). 100+ different jerseys to choose from including current NHL jersey designs, college jerseys, minor league jerseys, and more! Reasonably priced as-is with the screen printed logos and numbers included in the base price, or kick it up a notch with sewn logos, multi-color numbers, and player names for a completely custom look! Heavyweight 100% polyester air-knit fabric with double-reinforced shoulders and elbows.
VIEW ALL H550 STYLE JERSEYS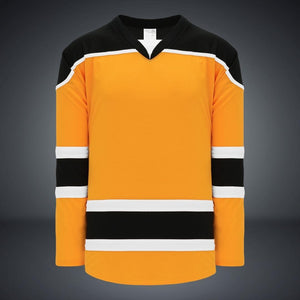 All of the jersey styles here can be purchased in any quantity as blank hockey jerseys. If you don't have time to wait for customized jerseys, don't meet the minimum order, looking for the lowest cost option, or simply have a local buddy who's going to do the printing for you at a discount, then blank jerseys may be the best way for you to go. Blank jerseys ship directly to you from our manufacturer so delivery time is fast (typically just 2-3 business days to most locations) and there's no minimum order required.
VISIT US AT BLANKHOCKEYJERSEYS.COM
How To Order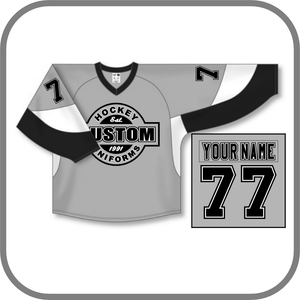 Request Your Mockup
Click on the "Request a Mockup" button on the individual custom jersey product pages.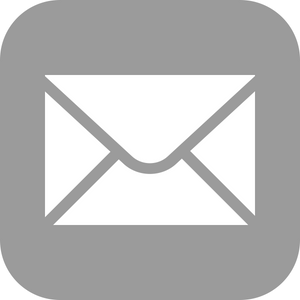 Check Your Inbox
We'll email your digital mockup design and a custom price quote within 1-2 business days.
Approve & Order
Upon approval we'll send you a custom online ordering link to complete your purchase.
What Our Customers Are Saying
HOCKEY SOCKS
Pro style and knitted style ice hockey socks are available at CustomHockeyUniforms.com as an add-on item to your custom jersey order. To purchase hockey socks separately without jerseys and in any quantity, please visit us at BlankHockeyJerseys.com.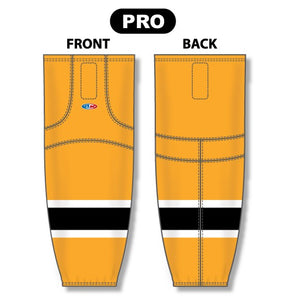 A little more expensive due to their cut-and-sewn construction, but by far the most popular hockey sock style worn by players at all levels. HS2100 socks have a 100% polyester lightweight moisture-wicking fabric stretch thigh panel along with a 100% polyester heavyweight air-knit shin and calf panel for added protection against cuts and tears from skate blades, slashes, and hooks. Front and back velcro tabs sewn inside allow for easy attachment to hockey jocks and undergarments and the sewn-in striping and reinforced seams provide maximum durability.
VIEW ALL HS2100 PRO STYLE HOCKEY SOCKS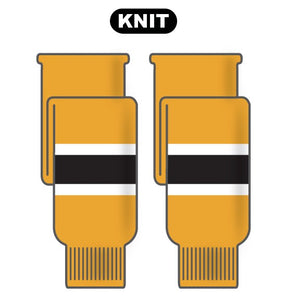 HS630 KNITTED STYLE HOCKEY SOCKS
A more affordable entry-level sock, the HS630 is the old school style worn by your favorite players back in the day. Made from a 40% polyester and 60% cotton blend, the HS630's are still quite durable while providing a snugger fit from the elasticity of the fabric and its ability to stretch, along with a ribbed elastic ankle cuff to prevent movement and keep shin pads tight. The best choice for outfitting large organizations or for cheapskate beer leaguers that don't want to spend a few extra bucks for nicer socks. Also doubles as a great winter hat when you forget yours at home.
VIEW ALL HS630 KNITTED STYLE HOCKEY SOCKS