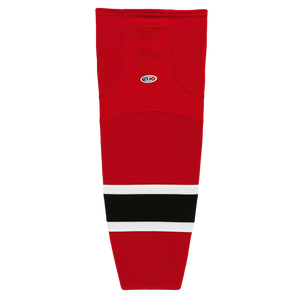 very excellent material as well ass fast shipping!
Team loves them
Ordered these for our Men's League team to match our uniforms, everyone loves them. Lightweight and durable. The Adult Standard size fits well and tight against the pads for most of us, only was a little baggy on those that had shin guards that are a little too small, but that's their problem.
Great uniforms!
Great uniforms! Well done :)
Thanks for the review, Michael!
Top quality socks!
This is a top quality sock that perfectly matched our jerseys. Highly recommended.
Hockey socks
Great quality products. Would definitely buy again and recommend to others.
Thanks for the review and your business, Jim!
Love These socks
This is our third season in these socks. They are light weight and not hot. They have held up well from tears and snags. Highly recommend
Thanks for the review, Matt!
Good Socks
Full disclosure, I've only used the socks in one game so I can't speak to the durability. However, they look good, have a nice long velcro strip inside, and seem thick enough to hold up while being thin enough to be light and breathable.
I was a little worried about getting the recommended size L as I'm generally on the smaller size. They are a little bigger than my other socks, but because of the long velcro I can put them pretty high, and the width isn't too much to be noticeable. Happy with these and it's great to have matching socks with my jersey!
Thank you for your sock review!