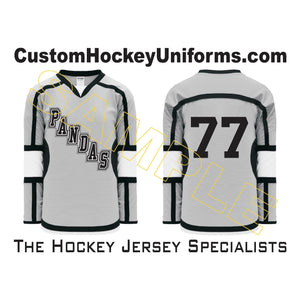 High Quality, Exceeds Expectation
While the jersey is high quality and sturdy materials, it is breathable and cool none the less. Really good craftmanship, attention to detail is apparent. Highly recommend.
Thanks for the review, Kyle! We truly appreciate The Skategoats' continued business year after year.
Jerseys
Amazing quality best ive seen
Thanks for leaving a review, Joel, and thank you to you and the entire Puck Norris team for your continued business!
Great Jerseys
High quality jerseys, great design support and delivery in the time frame we were given. Will be back for our next set.
Thanks for sharing your experience, Ryan, and we're thrilled to hear you'll be back for more jerseys in the future. GO DUSTERS!!!
Top Notch Jersey's!
I've ordered team and individual hockey shirts from These guys over the past 8 years and never had an issue. They stand up really well to the wear and tear of beer League Hockey and frequent or infrequent washes. Delivery times have always been earlier than expected too.
Thanks for the review, David, and for your continued business. Best of luck to you and team Power Play!
Awesome Jerseys, great turn around
I have ordered multiple times and will continue to order. These jerseys are durable and great looking, the turn around is fantastic! Fast shipping and the order is always right. Keep up the great work!
Hi Mark, and we're glad to hear you're pleased with the quality of your uniforms. Thank you for your business!
Durable Jerseys!
Same weight as the NHL jerseys but cost less. Wish all my teams used these!
Glad you like the jerseys, Erik, and thanks for sharing your opinion.
Site Specific Hockey Jerseys
Great jerseys, great turn around, easy to work with you guys!
Thanks, Peter. It was a pleasure working with you!